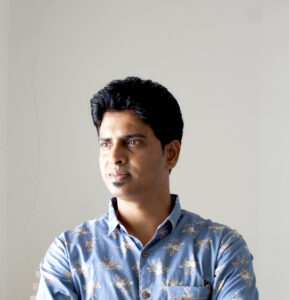 I first stumbled across Sachin Tekade's (B. 1980) on instagram. Even through a screen the calming effect of his pure white works could be felt. I later reached out to the artist and Anupa Mehta, who deals in Tekade's works, and was introduced to his use of striking red on pristine white. These works demonstrated a sense of urgency and chaos against a background of peacefulness, all the while maintaining the minimalism that characterises his practice. Sachin Tekade's calm, but serious personality makes him the ultimate personification of his practice.
Q1. Tell us a little about your foray into the world of art?
I have had quite a few interesting occasions as a student where I got to see people working in kite paper and doing some assignments. That's how my interest in paper developed. For degree, I went to Baroda Faculty of Fine Arts to study sculpture but somehow ended up with Applied Arts. Eventually, I circled back to art and started exploring paper as a medium.
Q2. If not an Artist what would you have been?
Nothing. I can only be an artist I think. Early in my career, even before becoming an artist I tried graphic design and other such vocations, but nothing really satisfied my curiosity. I somehow feel comfort in doing art. I don't think I'll ever be anything else.
Q3. What medium do you most associate with your practice?
Paper. This is the only medium I have been exploring ever since I started my art practice. There are endless dimensions and textures yet to be discovered I feel.
Q4. Is white your favourite colour, given its prevalence in your practice?
Initially I did an Art Teacher Diploma (ATD) at Akola and did an assignment on paper which was white. The teacher at the time selected that work and I felt happy. I really like the play on light and shadow that happens with the colour white, since then I have been using it. Once I got a better understanding of art, I continued to use white because I found that white has a purity and beauty that I am attracted to the most.
Red is also pure. That's why sometimes in a few works I use red also.
Q5. What are some milestones in your career?
I got a break in 2009 with a gallery and that's when I felt that I could do this. In Baroda I did Applied Arts and after that I did a few jobs but I never got satisfaction in any of them. My mind was set on art. I approached a few galleries and didn't get any response, but finally when a gallery responded and I got that break I realised I could do this and that's when my journey started properly. After that I never did a job anywhere else, I just practiced my art. 
Q6. How did you meet Anupa (of Anupa Mehta Arts and Advisory)? 
A friend gave me her email. She decided to keep some works and then all of them sold out. That was such a shocking time for me. Then she asked me if I would do a solo show, which I then did with her at 2012. Since then I have been working exclusively with her. 
Q7. Favourite work created by you?
My set of works from Absence (titles. Absence 13 & 14). These are possibly the biggest works I have done in paper. Around 2 feet x 9 feet.

Q8. Favourite artwork of all time?
I am quite inspired by works of V. S. Gaitonde. Especially, his series of warm and cool untitled works which express "Panchamahabhuta – the five elements (fire, earth, water, air & space)". These works seem very spiritual to me. I can relate to these feelings and the journey. 
Q9. What is one word that you would use to describe your practice?
White
Contact Anupa Mehta at info@anupamehtaarts.com for more information about Sachin Tekade's works.
[Note: parts of this interview have been translated from Hindi into English by the interviewer.]